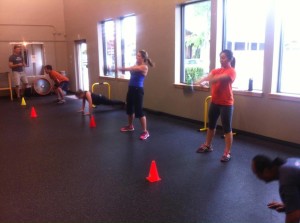 You've probably heard that training folks in a group setting is the way to go.
That it's more fun for your clients, that they'll stay longer and get better results.
And that you have more leverage than training folks one-on-one, so at the end of the day, your clients pays less and you make more.
All VERY true. This is why at FVT boot camp and personal training we have moved from about 70% one-on-one/30% group-based training to 10% one-on-one/90% group-based training at our facility in the
last two years. And we have more than doubled the size of our business in the process.
All this being said, it is a little trickier to train folks in a group than to train them one-on-one. It takes some special considerations. And if you do things WRONG, before you know it, folks are getting bored and frustrated with their workouts, NOT getting the results they should be, and leaving in droves.  And all of a sudden you're out of business.
BUT it doesn't have to be that way – IF you follow my tips 😉  Here are three simple things you can do to set up your group training workouts for maximum success:
1 – Make workouts both challenging AND fun
You NEED to make your workouts challenging. This is what your clients came to you for. If they wanted an easy workout they could do it on their own. So don't be afraid to push them.
At the same time, you also need to know how to scale your workouts and exercises properly for clients of all different fitness levels – which takes study and time and training experience. You have to know how you can push someone who, for example, can't lunge yet with perfect form or get their feet up smoothly coming out of a burpee (this is a topic we'll cover in a future post, BTW).
You ALSO need to make your workouts FUN.  The reality is that your clients probably don't like exercise as much as you do.  So if you do the same thing every time, they are going to get bored.  And end up quitting.
So make your workouts fun.  Program them intelligently over time and don't just do random stuff each day, but also do partner drills, relays, etc. to get folks interacting w each other and having a good time.  THAT will get your clients to stay longer, keep paying you money, and referring all their friends! 😉
2 – Keep exercises simple (but not easy)
Simple exercises work best in a group setting.  They are easy to teach, you minimize injury risk and you just end up minimizing general group training chaos.
Now I did NOT say easy. I said simple.
Full Turkish get ups, for example, in MOST large group settings just don't work. They are too technical and it ends up taking too long to teach the movement and it slows the class down, etc.
Burpees on the other hand are an example of a movement that is relatively simple to teach technique-wise but is quite challenging to perform.
If in doubt, keep it simple.
3 – Use timed sets instead of reps
One basic thing I never thought of when I first started teaching groups is that having everyone starting a set at the same time and do a prescribed number of reps is a bad idea.
In other words, if you have, say, ten folks all do 15 body weight squats at the same time, some folks will finish sooner than others. Some folks will use great form and take their time, others will rush through it. Some folks may even cheat and do less reps than you tell them to!!
SO – to work around this – a good strategy is simply to use timed sets. So instead of 15 reps of body weight squats, you just have folks do as many squats as possible in 30 seconds. Then you rest and move on to the next exercise.
Simple tip but SUPER helpful to know, especially when you are just starting out.
To sum up, I truly believe group training is the way to go … but you have to make sure you know how to set up the workouts for maximum success. Hope this article helps you. Let me know in the comments section below.  And I'll be back soon with more great fitness business content!
– Forest