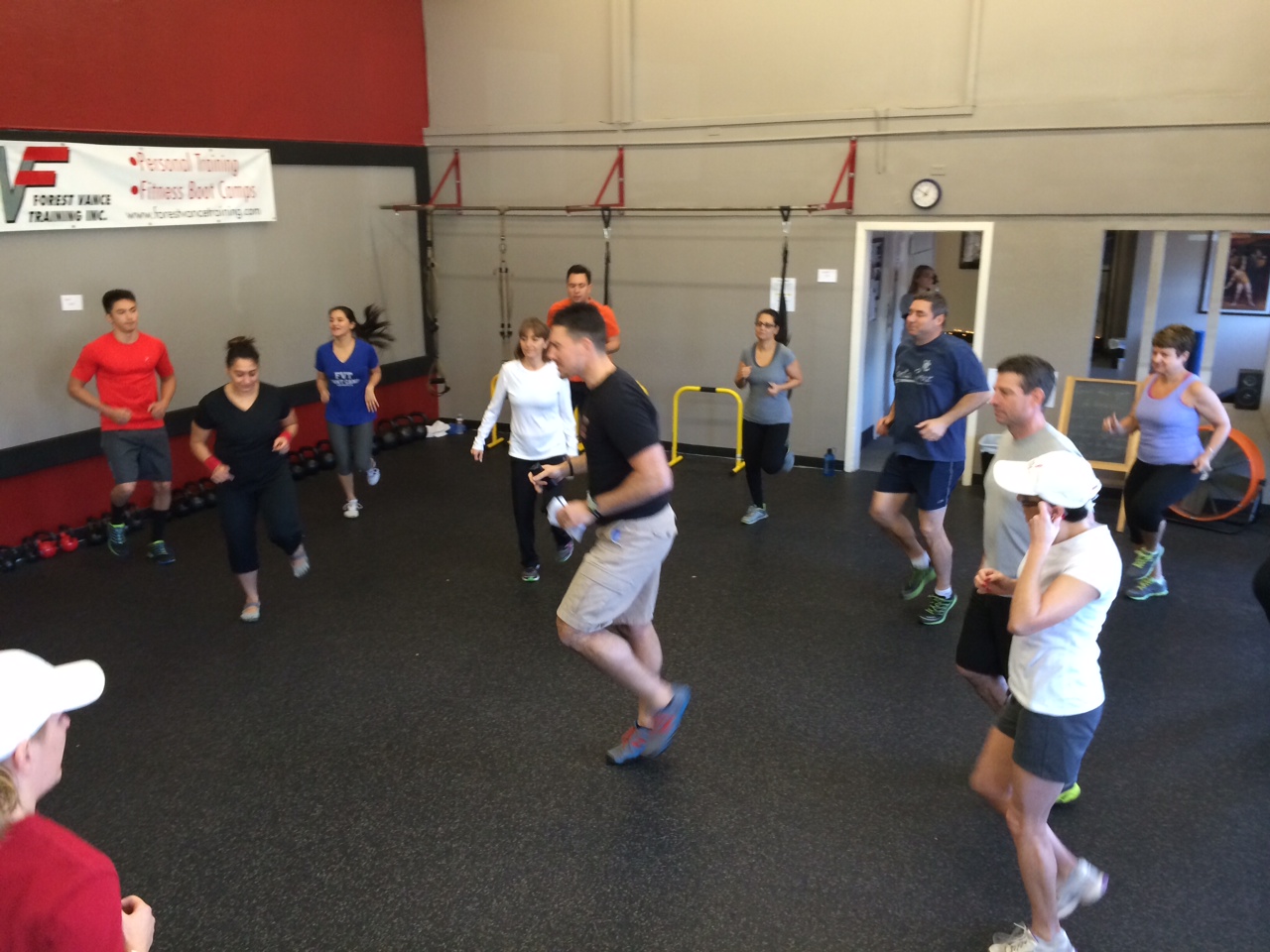 Been getting a lot of questions lately from folks who are looking to get into the fitness business.
So we're going to shift gears a bit and talk about how to "turn your fitness passion into profits" in today's article.
If you've ever thought about starting up a career in fitness in some shape or form … today's article is for YOU!
###
First – WHY do I have any business giving advice to you on the topic? Well, I am CERTAINLY not a fitness business "guru" or anything close to it … but since starting my fitness business in 2008, I have been pretty successful by most standards.
— I own a fitness facility here in Sacramento, CA
— We currently have a staff of five employees, and we're growing and adding new talent to the team every few months
— We're on track to be at about 150 total boot camp / personal training clients by the end of 2014
— I also have an online business where I maintain a network of blogs, YouTube accounts, maintain a social media presence on Facebook, Twitter, etc and have dozens of different products / training programs as well as an online coaching program
I have a hand in a lot of other smaller projects as well – like workshops, physical books and DVDs, apparel …. bottom line is, I am still improving and learning every day just like you … but I have learned some valuable stuff along the way that could most def help someone just starting out in the business.
SO … probably the #1 question I get is … what would you do if you had to start all over again? Where would you start?
And my answer is … I'd start a fitness boot camp.
Why?
Well, the online business stuff is AWESOME, and I know a lot of folks hear about it, and want to start there … and you can influence SO many more people around the world with your message, and you can work from literally anywhere with just an internet connection, which is AMAZING … BUT … there is a STEEP learning curve.
The reality is, it takes some time to develop the specialized knowledge to succeed online. It has taken me four years of working on this stuff to FINALLY "break through" this year and do really well.
You need to:
— Learn how to write sales copy that converts
— Learn how to drive traffic
— Learn how to create products
— Get at least some basic technical skills
— Make some contacts in the industry
Etc. before you're going to make a full time business out of it.  VERY do-able … but it takes time.  And it is NOT easy, it is NOT for everyone and it takes a lot of hard work, to make it work. So that is NOT where I would start from day one.
Working with clients one on one in person is great too, but from a business standpoint, it doesn't make a ton of sense. There is no leverage in working with folks one on one for an hour at a time. It is very hard to earn solid income from doing just one on one training sessions all day, and nothing else. And even if you could, you'd end up at the gym from morning 'till night and burnt out in a short time. So that's not where I'd start either.
Again, what I'd do if I was beginning all over again, is start a fitness boot camp.
Just a few benefits of starting a boot camp:
— You can reach and help more people (one on one you could handle 20 or 30 people by yourself TOPS … with a boot camp you could easily handle 50,60,70 clients or more – without having to hire staff to help at all)
— MUCH higher leverage (I know several boot camp owners that make a great, full-time income working two or three hours per day, five days per week)
— Higher energy and more FUN
The other thing I'd do if I was starting all over again is get some SYSTEMS in place from the start, instead of wasting TONS of time trying to figure it out myself.
Systems to help you do things like:
– Get new folks in the door on a consistent basis
– Convert them to paying clients
– Get them awesome results
– Bill people on a consistent basis
– Get them scheduled for their training properly
– Keep track of their sessions
– Get them to stay a long time
– Get them to refer their friends, family, and co-workers
=> Here is the system I recommend you follow if you're looking to start up a boot camp yourself
*Enter the coupon code "specialforforest" at checkout!*
The system I recommend you follow if you're looking to start up a boot camp yourself is put together by my good friend and business partner Georgette Pann.
Georgette is a an ACE-certified trainer who specializes in weight loss and nutrition, bodybuilding, post rehab and fitness boot camps. She's also the co-owner of NutriFitness LLC, which runs many boot camps each year. Plus, she's a FiTour Certified Boot Camp Trainer, a sports nutritionist, and certified outdoor fitness trainer.
Her program covers:
– Complete instructions for planning and designing your boot camp
– All the registration forms and liability waivers you need — no need to hire an expensive attorney!
– Complete sample workouts and exercise descriptions – your trainees will love the variety, and you'll love having the planning done for you!
– All the marketing materials, samples and templates you need to create sold-out boot camps!
At the end of the day, if I had to start over again in my fitness business, I'd start a fitness boot camp. But I'd also make sure I knew what I was doing, by getting a system to put it all together, instead of making the mistakes myself and doing it the hard way 😉
– Forest
PS – Georgette actually has shared with us a special link where you can get her program for a discounted price.  So if you're interested in grabbing a copy, make sure to do it through the link below:
=> Grab your copy of Georgette's program at a discount here
*Enter the coupon code "specialforforest" at checkout!*