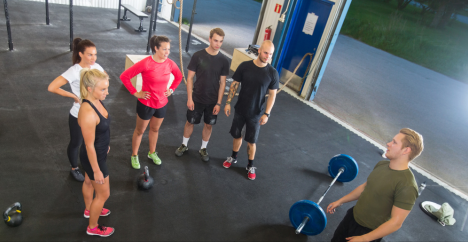 I am returning home from two days of masterminding with a GREAT group of business fitness business owners.
I also got some one-on-one coaching for my online info business, which was AWESOME as well.
HUGE take-aways, I know that investing in coaching is always SUCH a great decision for me … flying across the country, spending time away from my family, and investing a few thousand dollars isn't easy or in my "comfort zone" … but I know the results I get from doing these types of things – as a business owner, and just as a person – are SO worth it, I make it the highest priority to make it happen several times each year …
Anyway, I wanted to share a common trend I saw, that I thought could help you in YOUR fitness business.
This seems to be the common progression:
— Folks are passionate about fitness, so they start their own personal training / boot camp business.
— They get things rolling, and make a little money –
— And then they get stuck. They are doing *okay*, but also working very hard, and are not making the money and living the lifestyle they really want to.
Reasons are a little different for everyone's unique situation of course – but a common issue is not knowing your numbers.
To put it bluntly, people treat this like a hobby, and not a business.  Which is fine if you want to just do something fun and make a few bucks on the side.  But if you are reading this article, I think you might want more 🙂
Quick 10 second test, to see where you're at – answer the following questions:
– How many new leads did you get last month?
– How many of those leads resulted in setting a success session / selling a front end offer of some kind / etc?
– What percentage of those success sessions / front end offers signed up for one of your on-going, regular programs?
– What is your average client lifetime value?
Can you answer those questions off the top of your head, or just by looking them up real quick?
If not – why?
If you want to make this into a real business and make real money, you gotta know.
And if you don't, you gotta start tracking … and using that data to plan and correct course … and get you to where you want to be!
That's it for today – hope this post was helpful for you.  Got more like it coming soon – if you want to go "VIP" and know when new posts are published, sign up for the FVT email newsletter by dropping your best email into the box at the upper right of the page!
Thanks –
– Forest