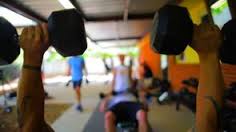 I sometimes wonder if I was starting again TOTALLY from scratch, and had ZERO existing training business …
Exactly HOW long it would take me to build a "full-time" client base as a trainer or coach?
(I'll get to exactly what I mean by "full time" in just a sec)
I think, if my livelihood depended on it, that I could do it in seven days.
Here's exactly what I would do:
1 – Do a survey
I would create a one question survey and ask – what is the worst problem you have right now?
I would send this out to my contacts. If I didn't have a list of email contacts, I would post it to my Facebook/Instagram/other social audience.
I would give people four or five multiple-choice questions in the survey, and then leave one blank space where they could fill in an answer themselves.
I would wait 24-48 hours, and see what the #1 problem that people needed help with was.
** Need my help with this process?  Submit your application for the upcoming Strength and Conditioning Coach Business Course:
=> FVTBiz Strength and Conditioning Coach Business Course
2 – Craft offer that solves their problem
I would make this a short duration and relatively low-cost offer.
For example – if it turns out that people's #1 thing they need help with is weight loss, I would create a "21 day rapid fat loss" program.
It would be geared towards getting folks to lose weight and see tangible results in 21 days, working with me in their workouts, meal planning, etc.
I would do it in a group setting, to leverage my time …
And I would charge $97 bucks.
3 – Roll the offer out
I would set up a seven day enrollment period for the program. And I would go CRAZY telling everyone I knew about it!
I would reach out personally to all of my friends, family and co-workers …
I would reach out to all my email contacts several more times …
I would reach out on all social media channels I regularly used several more times …
I would go to local businesses that had similar potential customers as mine – maybe chiropractors, massage therapists, supplement stores, etc. – and offer them a percentage of the sign-up fees for any of their customers that they sent over …
And I would go probably even spend a weekend day handing out fliers to folks in front of the grocery store, at the mall, at busy coffee shops, etc.
If I did this right, I believe that I could quite easily get 10 to 20 people to sign up at $97 each for my program.
This would be an immediate "cash infusion" of $1000 – $2000.
Then, of course, the goal would be to give those people a great experience, get them the promised results and then some, and get them to keep training with me on an on-going basis.
If I got 2/3 of those new folks to stay … and each of them paid $200 per month on average … that would be 15 new clients at $200 / mo each … which is $3000 per month, ON-GOING … all generated from about a WEEK of hard work.
This would be the base clientele for my new personal training business.
And of course, I would only grow it from there. I think I could easily be at 40 or 50 clients by the end of 90 days, just by repeating this same process at the beginning of each month.
Now obviously, this is a top level overview of the process.  There are many details that just would be impossible to cover in a blog post.
So if you want me to guide you through this process of buildng up your personal training / boot camp / strength coaching business, I recommend that you fill out an application for my upcoming Strength and Conditioning Coach Business Course, and we'll see if we can get you in:
=> FVTBiz Strength and Conditioning Coach Business Course
That's it for now.  If you end up putting this plan into action, I would LOVE to hear about your results.
And if you need my help in the process, click the link above and fill out the application.
Talk soon –
— Forest Vance
FVTBiz.com