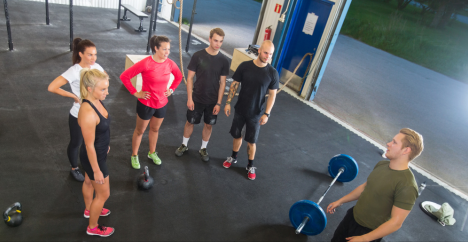 Did you know that there is value in programming?
I meal real $$$ value.
I do a significant amount of what I call "Elite Kettlebell Coaching" – and custom program writing is the core of this service.
Of course, I also coach my clients who I'm doing this with … they check in with me regularly, I monitor their exercise form via video, we tweak and change things with their programs on the fly based on what's working and what's not …
But the expert program design is what it all revolves around.
So – have YOU ever thought about writing fitness plans for people and charging?
I know it might be hard to wrap your brain around … but this is an often-overlooked asset to small fitness businesses and trainers that can be very profitable.
At any given time, I currently work with around 10 Elite Coaching clients … who pay $197 – $297 per month each … which works out to a nice side revenue stream.
I really enjoy coaching and working with folks this way, and how it extends my ability to work with people all around the world … and we have some AMAZING client success stories with this program … so it's SUCH a win-win!
Can you see the NEW revenue stream for yourself?
Now .. I honestly think the main reason most trainers DON'T do this is, they are not 100% confident in their program design.  And that's fair enough – putting workouts together that will get people great results, safely and effectively, is HARD!
But I have a solution 🙂
It's called the Expert Program Design Platform.
This program AUTOMATES the process of designing your workouts. It gives you flexibility to put in specific exercises etc … but the program puts them together, into a proper framework, so that you get the best results over time.
Learn more and get started today at the link below:
=> Expert Program Design Platform (use this link to save 33%)
Using the Expert Program Design Platform, you can start writing workouts for coaching clients, making more $$ on the side, and have full confidence that you are giving them safe and effective workouts that will get them great results over the long term.
Train hard, and talk soon!
– Forest Vance
Master of Science, Human Movement
Certified Personal Trainer
ForestVance.com
PS – The full Expert Program Design Platform includes:
— An "automated" program design tool (click here to learn more about exactly how it works)
— A video library
— An online seminar where he talks about how they program workouts at his gym, LEAN Performance Academy
— An ebook on "Understanding Periodization" – GOLD when it comes to learning about how workouts are structured and properly put together
— An ebook on "Understanding Regressions" – also SO important when it comes to being an awesome coach that can work with a wide variety of clients, and get them all awesome results
— An ebook on "Elite Coaching" – SUPER cool resource with tips on how to take your coaching to the highest level
— Warm up templates
Check it out and get the best $$ at the link below:
=> Expert Program Design Platform (use this link to save 33%)