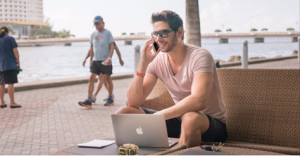 One of the most common questions I get when I tell folks that I do online personal training is HOW it's all set up.
As in – do I sit there with clients on video chat, and run them through their workouts every day?
Do I just write them a program to follow for the month, and wish them luck?
The short answer is – neither 🙂
Here's how I set things up for maximum client results and minimum stress in my online personal training business:
#
How to Start an Online PT Business – Set Up + Delivery
1 – Intake Questionnaire
First thing I do when I get a new client is have them fill out an intake questionnaire.
Since we are doing all the coaching via distance, it needs to be extensive and thorough.
They answer questions about their medical history, injuries they may be working with, that sort of thing …
They also go into depth about their goals, what equipment they have available to train with, and how much time they have available per week to train.
I also have them take "before" pictures and do weight and body fat measurements when they start.
Again – this has to be SUPER detailed, and you need to get as much info as you can.
2 – Build program
Based on all the info in the intake questionnaire, I build my new client a program.
There are different systems available to manage and deliver everything – the one I currently use is called Trainerize, and it is great –
But I used to just write everything up in a PDF document and email it over – and that worked fine as well.
It's a full outline of exactly what they will do for their workouts for the next month.
3 – Coaching
Now, my clients will follow the workout plan I designed for them.
They will record all of the workouts and exactly how much weight they used, how many sets and reps they did of each exercise, etc.
They get unlimited email access – so any time they have a question about anything, they are welcome to ask.
They also get unlimited video review – so if they are unsure about their form in any exercise, they can take a video of themselves doing it, and I will watch it and critique.
Once per week, they are required to check in via email with a few different stats – like how many workouts they got for the week and overall rating of how the week's workouts went.
Once per month we get on a 30 minute phone call to check in.
And then I write up a new program for each client once per month based on their previous month's progress and goals for the next.
#
And that's it!
That's how I run my online personal training program.
Clients get GREAT results with this format.  It's simple but powerful.  I recommend that if you are looking to start an online personal training business, you use it yourself.
Let me know if you have any questions.
And talk soon!
– Forest Vance
Owner, FVT Boot Camp and Personal Training
Owner, FVT Publishing and Consulting
ForestVance.com
FVTBiz.com
PS – Now that you know how to set up and deliver your online personal training program, the next step is to learn how to get clients to sign up for it.
We are currently taking applications for a six week online business boot camp for trainers and coaches – and in this program, you will learn how to consistently attract new potential clients for your online personal training business.
Now this business boot camp is NOT for everyone.
But if you are looking to get your fitness business online, help people around the world, and build the foundation for a six-figure online personal training business …
If you've been trying to get your business online, and either aren't making the progress you think you could be, or even just aren't sure where to start …
And if you can commit to working on this for 60 minutes per day, five days per week, for the next 6 weeks …
Fill out the interest form at the link below:
And we'll get back with you ASAP!