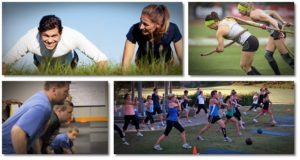 A couple of days ago, I shared with you what I think is the #1 "rookie" workout mistake – programming your own workouts.
I also shared a resource to help – with dozens of done-for-you workouts that are programmed FOR you – so that you can focus on hard training, coaching (if you are a fit pro), etc.
We got a lot of positive feedback on that one – so wanted to keep things going, and share a sample workout from another one of my favorite "workout library " resources – Turbulence Training Bootcamp Workouts.
Check it out:
#
TT Abs 300 Workout
from Turbulence Training Bootcamp Workouts
Go through the circuit TWO times, resting as much as needed between
exercises:
— Cross Crawl – 10 reps per side
— Plank – 20 second hold
— Prisoner Squat – 10 reps
— Side Plank – 15 second hold per side
— Mountain Climber – 10 reps per side
— Inverted Row – 10 reps
— Stability Ball Rollout – 5 reps
— 1-Leg Hip Extension – 10 reps per side
— Spiderman Climb – 5 reps per side
— Chop – 10 reps per side
— Pushup – 15 reps
— Bird Dog – 5 reps per side
— Stability Ball Leg Curl – 10 reps
— Plank with Arms on Ball – 10 second hold
#
Turbulence Training Bootcamp Workouts was one of the first ebooks I purchased – seven or eight years ago I believe. And it continues to be one of my all-time favorites. I literally use the workouts in this manual – and ideas from it – in my boot camp workout programming daily.
Craig (creator of the program) has got it – as well as a couple other bonus training and business resources – on sale for a short time.  DEFINITELY check this out, whether you are a trainer or coach, or you are just looking for more cool bodyweight – only workout ideas … it's a super high quality product, at a super value price.
(Seriously – the normal retail price of this program is 99 bucks – which makes it more than 90% off right now!)
Get it here:
=> Turbulence Training Bootcamp Workouts
Train hard, talk soon –
– Forest Vance
Master of Science, Human Movement
Certified Personal Trainer
ForestVance.com