Our first Unchained Mastermind meeting is a wrap!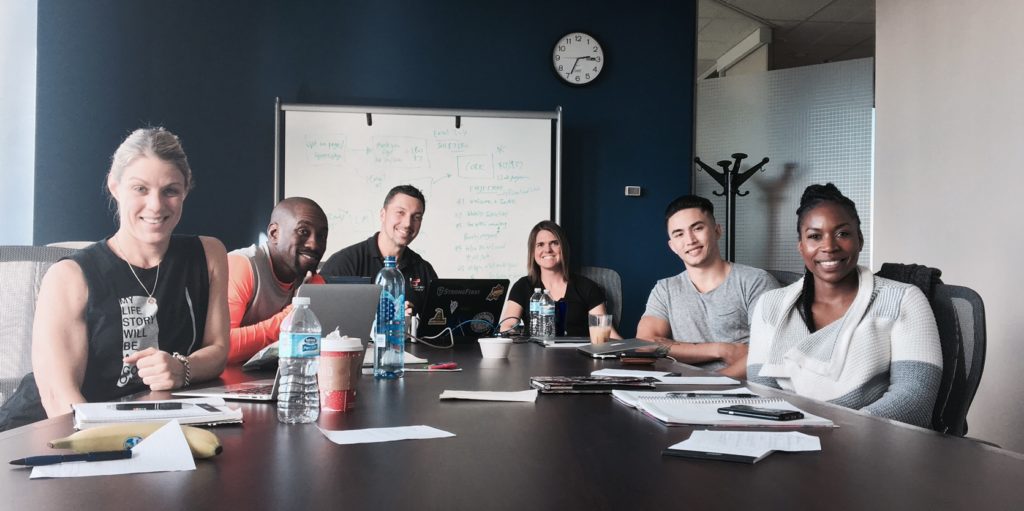 We kicked off with a "signature" FVT Lean and Jacked workout at the gym on Thursday afternoon …
Had several great meals together …
And had a VERY full day on Friday, digging into everyone's individual businesses, and making fast track plans for success.
Can't wait to see all the progress these already successful fitness business owners are going to make before our April meeting in Vegas!
Now it's too bad that you missed the meeting.
And of course, I can't share what we covered – in respect to the time, energy, and financial investment folks in the group have made it be a part of it … what happens in the Unchained Mastermind, stays in the Unchained Mastermind 😉 –
But I CAN tell you that one thing that came up over and over in our meeting was the concept of FOCUS.
You see – when it comes to goals you're trying to reach … whether it be taking your business to the next level, or losing 35 pounds, or adding 100 pounds to your deadlift …
FOCUS is truly the key to success.
And many times, it not so much what TO focus on for success … it's what NOT to … that is TRULY needed to get where you want to go!
I recently came across an article about Warren Buffet that illustrates the concept perfectly.
He put his personal airline pilot through a three step exercise.
He had him write down his top 25 career goals.
Then he asked him to review the list, and circle his top 5.
His pilot did so with some careful consideration … and then said he would get to work on the top 5 goals right away!
Buffet then asked him about the 20 he DIDN'T circle.
His pilot said they would not be a priority, but he would work on them when he had the time.
Buffet went on to explain that the 20 he didn't circle, were NOT to be worked on … they were his AVOID-AT-ALL-COSTS list!  Because until he achieves the top 5 … all the time and energy and resources he spends on the other 20 … is the ENEMY of him reaching his biggest goals.
Powerful, right?
And very applicable to you.
This applies to all aspects of your life.
So take some time today, and think about what YOUR top business, fitness, and life goals are for 2017.  Pick your most important ones.  And make this the year you FOCUS … and knock those goals out of the park!!
To your success –
– Forest
PS – If you are interested in joining the Unchained Mastermind in 2017, let me know. I am purposely keeping the group SMALL … and there are actually a couple of folks who weren't able to make it out to Sacramento for our first in-person meeting, and are actually missing from the pic above … but we do currently still have a couple of spots open as we move into 2017.
PPS – If one of your big goals right is starting an online training / coaching business, also be sure to stay tuned. I've got a coaching program coming next week on the topic that you're going to LOVE 🙂