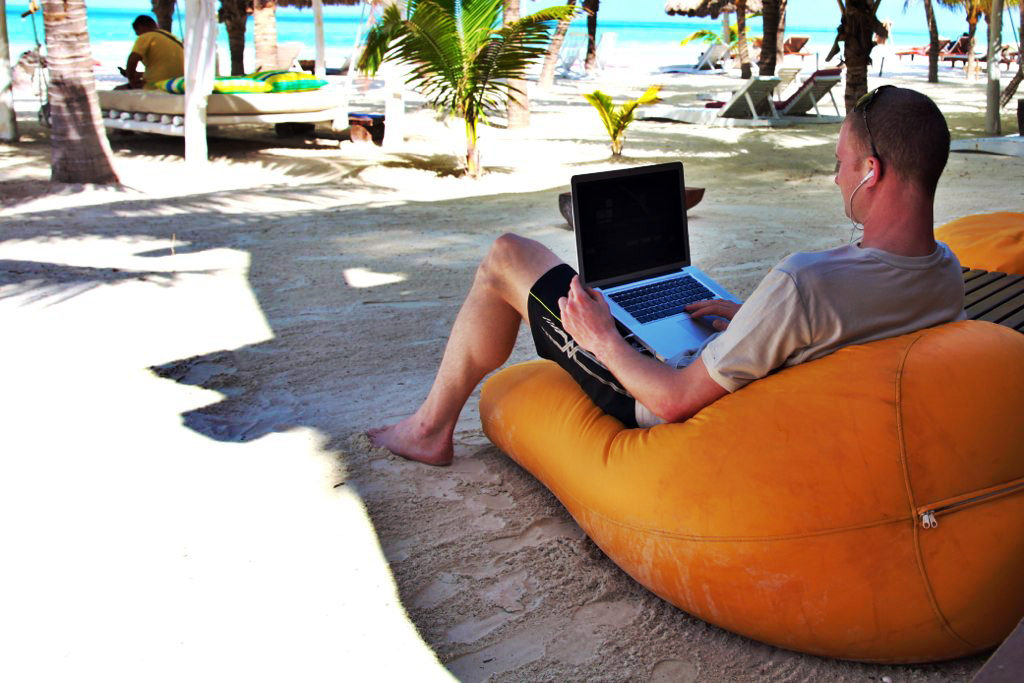 I know that getting a stream of consistent leads is something a lot of trainers struggle with … and I KNOW that if you had 485 people who were interested in training with you, that you could get at LEAST 5 or 10 of them as clients … and 5 or 10 online training clients is ALL YOU NEED to generate an extra $1000-$2000 per month in your online personal training business … so let's do this! 😉
.
We go more in-depth into the concepts in today's article – and you can get my personal help and feedback in the process – in Unchained, my 6 Week Online Business Bootcamp
.
Step 1 of generating 485 online PT leads in 30 days is getting a system set up where you can collect those leads.
The way we're going to do this is by creating a training course of some kind on a focused topic to give away for free.
This is people's entry point into your world, if you will. It's your chance to give away some of your best stuff – for FREE – wow your prospects, and start a great on-going relationship with them.
That's why we want to make it GOOD, and on a topic that people really want.
An easy way to get ideas for this is to do an informal survey … ask your current training clients, your social media followers, etc – what are the BIGGEST problems they are struggling with? … and you create a short, but highly useful, training around that.
You can also just expand on a successful blog post, video, etc that you may have done in the past.
It doesn't have to be BIG – a 10 minute video or 5 page PDF report is great – but it needs to solve a big problem for folks, and be valuable and genuinely useful.
Once you've got this done, then we have to set up a way for people to get their hands on it.
You'll set up a page where folks can put in their email address, will automatically be added to your email list, and then send your free gift.
And BOOM – your lead generation machine is up and running!
.
Now, for STEP 2 –
We are going to focus on driving people in a variety of ways to that page, and getting them to exchange their email address for your free give-away.
There are MANY ways to do this … but I would start with writing articles, doing YouTube videos, and social media.
The idea being, you provide folks with a great article, video, social media post, whatever … and at the end, you say "hey, if you liked this post, you'll LOVE my free report on xyz – go to www.xyz.com to get it!"
Here's an actionable plan to get 485 new people on your list in 30 days or less:
1. Post 3 times per day to your Facebook fan page and / or Instagram account. 2 of those posts are useful content, 1 of them is a link where you send folks to check out your free report. You're able to get 10 people per day to click the links from social media … 5 of those people sign up to get your free course … and you get 5 new people per day on your email list this way.
2. Land one guest post per week on a blog in your niche. You give that blogger a free content piece in exchange for a link back to your squeeze page. This gets you an average of 100 clicks to your squeeze page every time an article is posted, and an average of 50 new subscribers per week.
3. Post one new video to YouTube per week. Each video gets a couple hundreds views, and you have 10 or 15 of the folks who watch it end up going and getting your free training as well.
.
So in 30 days, we can easily get:
— Social – 5 subs / day = 150 total
— Guest articles (5) @ 50 subs / each = 250 total
— YouTube – (5) @ 10-15 subs / each = 85 total
TOTAL LIST SIZE AT 45 DAYS = 485
Hope this helps!
Thanks, talk soon –
– Forest
PS – Get my personal help in putting all of this into action, and making it work for YOUR specific situation, here: