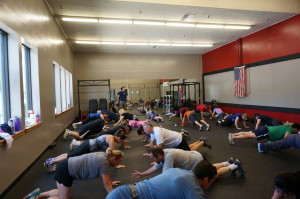 Back in my day!! –
When I got started in the fitness industry, in 2004 ..
We got clients WITHOUT the internet.
And then when I broke off from the gym and started off as an independent trainer ..
I filled my schedule to 50+ hours a week of training sessions, in less than 90 days, without a website, or Facebook page, or any of that.
The great thing?
These "old-school" marketing tactics still work now better than ever .. probably BETTER than they used to .. because no one is doing them!
Everyone wants to sit in front of their laptop and post cutsie videos and updates and hope that a flood of new potential clients show up at their door.
What ever happened to getting your HUSTLE on!?!?
Anyway 🙂 .. without further ado, here are 10 ways to get new clients – WITHOUT the internet:
1 – JV with local businesses
Restaurants, dentists, physical therapists, chiropractors .. the list goes on and on .. strike up joint venture deals with local businesses, and send each other new clients / customers.
2 – Hold a special live event
This could be a nutrition workshop. It could be a boot camp for charity. Any special event where you can get folks in your door and exposed to your business.
3 – Car sinage
You can get cool – looking custom decals made, and put them on your car. You could even go as far as wrapping your vehicle.
4 – ASK
Send a personal card, a personal email, make a PHONE CALL (gasp) to a client who needs it, and ask for a referral!
5 – Implement a referral rewards program
Offer $50 or $100 to clients who refer a family member or friend. We do this at FVT, and it works GREAT!
6 – Plan a Bring-A-Buddy Workout
Hold a special event where your clients can bring their friends to work out for free!
7 – Run a transformation contest
Do a 28 day or 42 day or 60 day transformation contest. Get your current clients to sign up, and also invite their co-workers to join at a special rate.
8 – Attend a local networking meeting
Look on MeetUp.com .. see what kind of networking meetings are happening in your area, for local small business owners. Show up! 🙂 Think about joint venture deals you can set up, and how you can send each other your best customers.
9 – Schedule a Lunch and Learn
Set up a time to bring the team of a local business lunch, and talk to them about how to incorporate exercise into their life and live a healthier lifestyle. Offer everyone there a 7 day trial of your services, to get them to your gym.
10 – Door knockers
Print out 500-1000 door knockers. Make sure to have a great offer for new clients. Walk around the neighborhood and hang them on people's doors.
#
Whew!
There are 10 ways you can get new clients, WITHOUT the internet.
These strategies work as well – or possibly even BETTER than – they ever have.
If you are struggling to get new clients in the door, try a few – or better yet, ALL – of these strategies, and watch your business EXPLODE!!
Rock on –
– Forest Vance
ForestVance.com
PS – I'm starting a new challenge group this month, and I'm looking for a handful of trainers to work with to create successful case studies before the official launch of the program.
I've worked with a handful of coaches on this and the results have been EXPLOSIVE .. and I'm going to work with a big larger group this month .. starting this week.
Here's what we'll work on:
1 – This challenge group is called "30 Leads in 30 Days"
2 – It's designed to help you EXPLODE your training client base. You'll be doing a combination of old-school, in-the-trenches marketing tactics (that NOW work better than EVER .. because no one else is doing them!), and cutting-edge stuff too.
3 – Things you'll be working on to generate leads will include, but will not be limited to:
– Distributing trial give-away flyers
– Setting up local public speaking engagements
– Attending local networking meetings
– Writing and distributing articles online
– Shooting and distributing videos online
– Setting up a referral rewards program
– Setting up and running a transformation contest
– Joint venturing with local businesses
– Regular posting to social media
… and MUCH more.
This will CHALLENGE you to hustle, probably like nothing you've ever done before.
And if you want in, you have to be ready to take action DAY 1.
But if you follow the exact plan, you WILL have more leads than you know what to do with by the end of the month.
I truly believe that this program can change your life, and put you on the fast track to permanent success in your fitness career.
Now again – I only want to work with a handful of people who can implement, test and report back on the results.
I'll use YOUR business as the Case Studies to apply these strategies.
I'm ready to get started right away and I'm inviting YOU to join the Case Study Team.
Here's how it will work:
Each day for 30 days, we'll focus on one of the strategies.
Then, we'll get together in a private Facebook group to talk about it, and brainstorm specific wording and strategy for YOUR business … so you can put it into action, and report on your results.
I really want to create some great case studies from this, so I'll be spending one on one time with you to make sure we maximise your results.
The more you implement, the more I'll work with you.
We're going to be working closely together, so I'd like you to be sure you have some time to dedicate to this over the next 30 days.
The total cost is $197 … but for right now, I just need to know if you can join us, and I'll get you all the details.
I'd love to work with you.
Just reply and say "I'm in!", and I'll take it from there 🙂