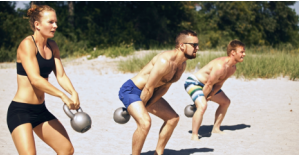 If you really think about it, you probably rely on one or two lead sources for the majority of your new clients. Such as:
– referals/word of mouth
– your website
– Facebook and/or Yelp
– deal-of-the-day promos
– ads in local publications
– etc.
If this is working for you, and you're getting all the new business you want and need – great!
On the other hand, if this is NOT working as well as you'd like, odds are though that you need to diversify a bit.
Best case senario, even if you ARE getting all the leads you can handle, you never know when one source will dry up. Your Facebook account could get shut down. Deal-of-the-day sites could stop working for you. Or whatever.
You want to have multiple different sources going so that you get a steady stream of new clients throughout the year.
Today I have listed out for you 17 ways we get new personal training clients at FVT.
Over the last 12 months we have gotten at least 1 client from each of these sources.
We were able to get over 200 new clients through our doors in the last 12 months, and this is an outline of pretty much exactly how we did it.
Also this is by NO means an exhaustive list of ways to get boot camp and personal training client leads – just what is working for ME right now personally.
For more detail and specific strategy on these methods – as well as a complete SALES system to get your prospective new clients to SIGN UP – check out my Strength Coach Business Course here
#
17 Ways to Get New Personal Training Clients
1 – Referrals
Once you get your business rolling and have a "critical mass" of maybe 50 or so clients, this absolutely should be your #1 source of new folks.
First you have to do an awesome job and get folks great results. That is the #1 thing you can do to get referrals. If your clients are not getting results, they probably won't refer others. Simple. So get that fixed before anything else if it's a problem.
THEN, there are a LOT of different strategies you can use to get them. Bottom line is that you should systematically be doing these things to get referrals into your biz on a regular basis.
A few things we do that work well:
– just be appreciative and thank your clients for sending you business
– give $50 cash to current clients who refer folks to one of our regular on-going programs, make a big deal about it in front of a boot camp group
– rotate through different events like charity boot camps, rapid fat loss challenges, bring-a-buddy boot camps, workshops, etc. each month and give folks a chance and reason to refer
– periodically ask for them via our email newsletter, on Facebook, in written thank you cards to new clients
2 – Google Search
Our website pops up when you search for terms like "kettlebell training in Sacramento" … folks end up calling us, coming in for an intro session, and signing up.
3 – Walk-Ins
We are fortunate to be located in a good area of town with a reasonable amount of walk in and drive by traffic. We get at least a couple of new clients each month this way.
4 – Charity Boot Camps
Once per quarter we run a boot camp for a local charity. It's a great and cool thing to do for the community and those in need. It also brings new folks into the studio and we end up getting exposure and new clients along the way.
5 – Yelp
Yelp is a huge lead source for us these days. We get at least a couple of new clients per month from it.
6 – Listing On RKC Website
We have become known as one of the go-to spots for KB training in our area … so if folks search around, they often find my RKC profile page. Then they come in and end up signing up.
7 – Workshops
Once per quarter or so we also run specialty workshops – on kettlebell training, flexibility and mobility, nutrition, etc. Not only is this an added benefit for our existing clients but we also attract new folks in this way too.
8 – Facebook
We post daily pics of classes in action, client success stories, etc.
BUT the most powerful for us anyway is always un-solicited feedback from happy training clients.
Best thing you can do here is, again, be awesome, have fun in your boot camps and get your peeps RESULTS!
9 – Rapid Fat Loss Challenges
A couple of times per year we run a 30 day rapid fat loss challenge. This is a huge way for current clients to refer their friends. Takes a lot of effort to put together but it is well worth it 😉
10 – Postcard Mailing
We did a couple of postcard mailings last year and did get a few clients … but frankly the ROI was just okay. This is one that we are putting on pause for a little while. CAN be great but you have to know what you are doing 😉
11 – Door Hangers
Here is one that a lot of folks might not think of but can be effective. You get 500 or 1000 door hangers printed up, get out there yourself on a Saturday morning and maybe pay a couple of local high school kids 30 or 40 bucks to get them out in your neighborhood.
12 – Bring-a-Buddy Boot Camps
Great opportunity for folks to bring their friends in to try your program. We try to do one of these every quarter.
13 – Local Media – News, Magazine
We got on two spots in a local magazine last year, as well as a mention in the local news … both of these ended up resulting in getting a few new clients each.
14 – Lunch and Learn Presentations
These are doing really well right now. I have a prepared program I can do that 1) helps me practice my public speaking skills and 2) local businesses will actually pay a couple hundred bucks for a 30 minute talk and 3) I have the opp to get some new clients from it too!
15 – Email Marketing
A MUST MUST MUST for your fitness business. We can track most of our sales back to this in some shape or form.
16 – Inactive/past client re-activation
This is one that is DEF worth doing if you have been doing your thing for a little while. You have lots of inactive clients that left for whatever reason. This does not mean that they never want to train with you again though. Email them and call them and invite them back in!
17 – Local biz JV cross – promos
When we do charity boot camps, rapid fat loss challenges, special events, etc., we get fliers in local small businesses where I have a relationship with the owner. Also occasionally we will get other business owners to send an email blast to their list about an event we have going or even just to a squeeze page where we can get prospects on our email list and then follow up and market to them with a special offer.
#
WHEW! That's all 17 ways I got new clients in the last year.
Hope this helps.
For more detail and specific strategy on these methods – as well as a complete SALES system to get your prospective new clients to SIGN UP – check out my Strength Coach Business Course here.
Keep hustling! –
– Forest Vance
Owner, FVT Boot Camp and Personal Training
Owner, FVT Publishing and Consulting
ForestVance.com
FVTBiz.com