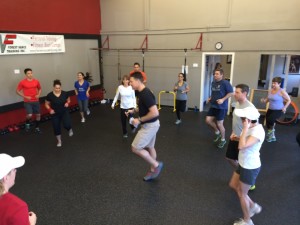 It was about nine years ago that I decided I had ENOUGH of working at a big box gym, and that I was ready to launch my personal training business.
I'll be the first to admit that I had no idea what I was doing.
I started out decently well I thought, and filled up my schedule completely in about 60 days.
I remember thinking – this is easy! I should have done this so much sooner!
I was helping people, having a lot of fun, and making great money in the process.
But as the business grew, things got more complex.
My expenses started to go up, because I was training more clients, and so paying more rent to the gym I was subleasing space from.
I had no systems in place – which meant I was running around like a crazy person, working early morning till late at night, trying to not only train all my clients, but write workouts, manage everyone's workout schedules, take care of the billing, and so much more.
10 months in, I almost quit, and went back to the big box gym I had worked at for the previous 3 years.
Thankfully I didn't – because over the next year, we outgrew the gym I was originally subleasing from, and I ended up opening our first facility, now a second, and we've gone on to help over a thousand people in our local community with their fitness goals, and build a very successful and profitable business in the process.
I also have a very successful and profitable web-based publishing business, where I create digital products and programs, and work with coaching clients around the world.
AND, as a result of all this, I'm now getting opportunities to do a lot of the things I cool things that I dreamed of as a trainer getting started in the industry a decade ago. I have assisted at and held kettlebell workshops around the US, I have gotten the opportunity to speak at industry events,  and I have been featured as a guest on dozens of high-traffic websites, and much more.
So what was the BIG SWITCH?
What took me from almost giving up, to cranking to the next level?
Well, at the beginning, I was trying to go it alone, all by myself.
When I finally took the leap and got plugged into a coach and a network of like-minded individuals, who I could get help from on specific issues at any time, who I could rely on for quality advice, and who could grow WITH me as I took my business to the next level, things took off.
And I've never looked back.
THIS is the big reason why I put together the Unchained Mastermind group.
The UNCHAINED Mastermind group is for trainers and coaches ready for MASSIVE success … who are 100% READY to take it to the next level … and who want and need the accountability and support to make it happen!
Membership is STRICTLY limited to NINE members (+ Forest = 10 total), and includes:
— Access to Forest's COMPLETE library of training, marketing, sales, business, and operations materials (value = $3500+++)
— Access to all NEW programs / products released by Forest while in the group (value = ?)
— Monthly group roundtable mastermind – video chat calls for goal setting, personal support and accountability (value $300)
— Private Facebook group for networking and support 24 hours per day, 7 days per week (value = PRICELESS)
— Every-other-month one-on-one coaching calls with Forest (value = $350)
— BONUS FREE ADMISSION to 2x per year LIVE mastermind group meetings (SAVE THESE DATES – Dec 2 2017 Sacramento, CA – June 9 2018 Las Vegas, NV) (value = $997+++)
Cost = $297 / month, IF accepted into the group.
But you HAVE to apply.
NOT everyone will be accepted.
You need to be:
– SERIOUS about taking it to the next level
– READY to take massive action
– Be POSITIVE and COACHABLE
– Ready to not only GET from the group, but also CONTRIBUTE in a positive way
Please fill out the application below if you are interested, and I will get back with you in 24 hours or less:
Thanks, look forward to hearing from you!
Forest Vance
Owner, Head Trainer, Forest Vance Training, Inc.
Master of Science, Human Movement
Certified Kettlebell Instructor
Certified Calisthenics Instructor
Certified Barbell Instructor
Certified Performance Enhancement Specialist
Certified Fitness Nutrition Coach
ForestVanceTraining.com
ForestVance.com